LASIK Eye Surgery Care from Your Corpus Christi Eye Doctor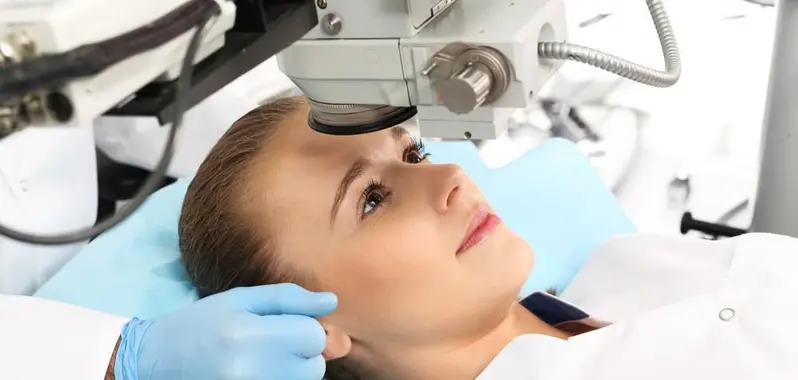 LASIK (laser-assisted in situ keratomileusis) is an amazing surgical procedure in many ways -- not only does it do a remarkable job of restoring visual clarity for many patients suffering from refractive disorders, but the surgery itself is remarkably quick and easy for the patient. But there's more to LASIK than the actual surgery; you also need to make sure you're a good candidate for the procedure, get the necessary preparatory evaluations, and then pursue important follow-up care to ensure the best possible results. That's why every Corpus Christi eye doctor on our Family Vision Associates optometry team is happy to provide pre-operative and post-operative LASIK eye surgery care.
Pre-Operative LASIK Eye Surgery Care
No matter how wonderful the idea of correcting your vision without glasses or contacts may sound, you need to know whether LASIK is really right for you. Your Corpus Christi eye doctor can study your medical history and perform a comprehensive eye exam to help make that determination. People with ocular herpes, certain autoimmune diseases, diabetes, glaucoma and other health issues may need to avoid LASIK, as well as pregnant women, people under the age of 18, and those with unstable, rapidly-changing, corrective, vision prescriptions. Chronically dry eyes may become worse after LASIK.
If it looks like you're a good candidate for the procedure, we will make sure you understand that even LASIK isn't always perfect; your vision might not clear up 100 percent, and if you have presbyopia you may still need reading glasses. If you're fine with all that, then we'll refer you to a trusted Corpus Christi eye specialist in LASIK surgery for the procedure itself.
Post-Operative LASIK Eye Surgery Care
The Corpus Christi eye specialist who performed the surgery may give you special goggles to wear for the first couple of days after your LASIK surgery. These devices prevent you from touching or rubbing your eyes during this critical healing period. Your Corpus Christi eye doctor will then schedule multiple follow-up visits, with each eye exam aimed at monitoring the healing process and evaluating the success of the procedure as your "new eyes" continue to adjust and settle in.
If you're experiencing side effects such as visual "halos," dryness, dryness, redness or discomfort, we can check to see whether you're simply undergoing a normal reaction or you have some other problem that needs fixing. It's very important, by the way, that you continue to schedule regular eye and vision exams. Corrected vision notwithstanding, your eyes could still fall prey to cataracts, glaucoma, macular degeneration and other issues that might go undetected without an eye exam.
Get the Corpus Christi Vision Care You Need for a Successful LASIK Experience
Your source for Corpus Christi vision care is also your source for pre-operative and post-operative LASIK eye surgery care. Call (361) 854-1833 to schedule a consultation with a Corpus christi eye doctor on our team!